Angela and I recently returned from a trip to Taipei and Bali. While in Taipei, we wandered through the beautiful city, saw the tourist highlights, ate some delicious food, and perspired an obscene amount. Our time in Bali was much more of a true vacation. We spent the majority of our time relaxing and enjoying the natural beauty around us (with long and traffic-filled journeys between various parts of the island to break things up).
Bookings
I got excited about visiting Bali because a great fare was posted on the FlyerTalk Premium Fare Deals forum. I booked the fare and, when the airlines involved did not honor it, I decided to find an award flight to replace it. Six months later, another fare was posted to the forum. I booked it and that ticket, too, was canceled a few weeks later.
Once I was excited about visiting Bali, I found that I couldn't get the idea out of my mind and ended up planning a trip to paradise paired with several nights in Taipei to get a taste of Taiwan. In the end, I changed almost every part of this itinerary multiple times with the final itinerary bearing almost no resemblance to the initial version.
Flights
The flights for this trip changed many times and for many different reasons. For me, one of the highlights of our final itinerary was the chance to fly Starlux Airlines from Los Angeles to Taipei, booking the segment using Alaska Airlines Mileage Plan Miles on the first day the Alaska Airlines program was eligible to book with their partner. We secured a flight at the short-lived promotional pricing, which I doubt we'll ever see again.
I was also very happy to use up the remainder of our Delta Airlines SkyMiles for the Taipei to Bali segment. This was a pleasantly solid redemption given the hatchet that Delta Airlines has taken to their award program's ability to book premium cabin travel.
As usual, all of the United Airlines flights were booked with TravelBank funds and taxes and fees were generally covered with US Bank Altitude Reserve points.
Angela and Nicholas

144.90USD per person
60,000 Alaska Airlines Mileage Plan Miles + 18.10USD per person
45,000 Delta SkyMiles + 500.00TWD per person
118,000 Flying Blue Miles + 162.32USD per person

DPS-TPE on CI J
TPE-SFO on CI J

103.90USD per person
Hotels
When booking this trip, I initially had us staying at Alila Villas Uluwatu for five nights. I eventually lengthened the trip by several days and booked stays at two other properties while decreasing our time in Uluwatu. This ended up being, by happenstance, an absolutely phenomenal decision. I'll discuss the reasons why throughout this post.
Activities
We ended up canceling a few activities for a full refund, but still did some cool things on this trip, all of which I'd recommend.
August 29, 2023
After dropping Fitz off at boarding and packing for the trip, we hopped in the private transfer that I booked to take us to the airport. While we usually drive and park in the garage, the timing of our flights and the length of this trip made it a better idea to leave the car at home.
When we arrived at the airport, we proceeded to the United Airlines counter to drop our bags and collect our boarding passes. Our initial segment wasn't noteworthy in any way. Our Las Vegas to Los Angeles and Los Angeles to Taipei segments were on separate tickets so we had to collect our bags once we landed and proceed to check-in to get them tagged again. The timing of our positioning flight was perfect. We were the first ones at the counter when check-in opened for our international flight.
After clearing security, we visited the Centurion Lounge for fifteen minutes before departing for the Oneworld Business Class Lounge. I was a little disappointed that the Centurion Lounge closed so early at such a large international hub and that they removed all food thirty minutes before the lounge closed.
The Oneworld Business Class Lounge had a somewhat medicocre food selection, but at least the seats were comfortable and it's certainly better than spending time in the terminal.
We left the lounge fifteen minutes before boarding, stretching our legs before the long flight to Taiwan. I enjoyed everything about the Starlux Airlines business class experience. The seat was spacious and comfortable, the pajamas were well-sized, and the pillow and blanket were both great.
After take-off, I skipped dinner service and slept for nearly eight hours straight. We would definitely fly Starlux Airlines again if given the chance.
August 31
We landed at 0500, walked to immigration, and entered Taiwan without delay. After collecting our bags, the first ones onto the conveyor belt, we made our way to the Airport Express station where we purchased EasyPass cards for our time in Taipei. Unfortunately, the vending machine for the card requires exact change so we had to do two separate 500TWD withdrawals at a nearby ATM because I only had a single 1,000TWD bill from my last visit to the country.
Once the station opened, we rode the Airport Express to Taipei Main Station where we transferred to the Tamsui-Xinyi line in the direction of Xiangshan. We exited the MTA at Taipei 101, a five minute walk from the Grand Hyatt.
We were cheerfully greeted and told our room would be ready in about ninety minutes, a pleasant surprise given how early it was. On top of this, we were invited to enjoy breakfast in the executive lounge, a great start to our time at the property.
The lounge had a fairly good selection of hot and cold dishes and, as soon as we'd gotten our fill, our keys were delivered to us by a friendly lounge agent. We were upgraded to a large suite with a separate sitting area. The bed was comfortable and the view was nice from the top floor. The fit and finish of the property could use a little work as there were huge marks on several doors and walls, likely from travelers hitting them with their suitcases repeatedly.
After a quick shower, we set off to explore Taipei. Our first stop was the Dr. Sun Yat-sen Memorial Hall and Zhong Shan Park. Unfortunately, the hall and park were both blocked off in preparation for some type of event. We snapped a few pictures before heading towards Taipei 101.
We arrived at the iconic building thirty minutes before it opened. Rather than waiting around and wasting what we expected to be one of the nicer days of our visit, we walked to Xiangshan (Mt. Elephant) and hiked to the peak. By the time we arrived at the trailhead, Angela and I were both absolutely drenched with sweat.
The hike up was pleasant, well-marked, and well-maintained. We passed a few other people on the way to the top, but the trail we chose seemed to be a less popular one.
On our descent, I read a trail map incorrectly and took a wrong turn. We ended up walking a roundabout path down to street-level, passing a couple of temples along the way.
With the weather still fairly clear, we returned to Taipei 101 and bought tickets for the 89th floor observation deck. The views over the city are quite beautiful and we enjoyed taking pictures with some of the fun objects they have scattered around the space.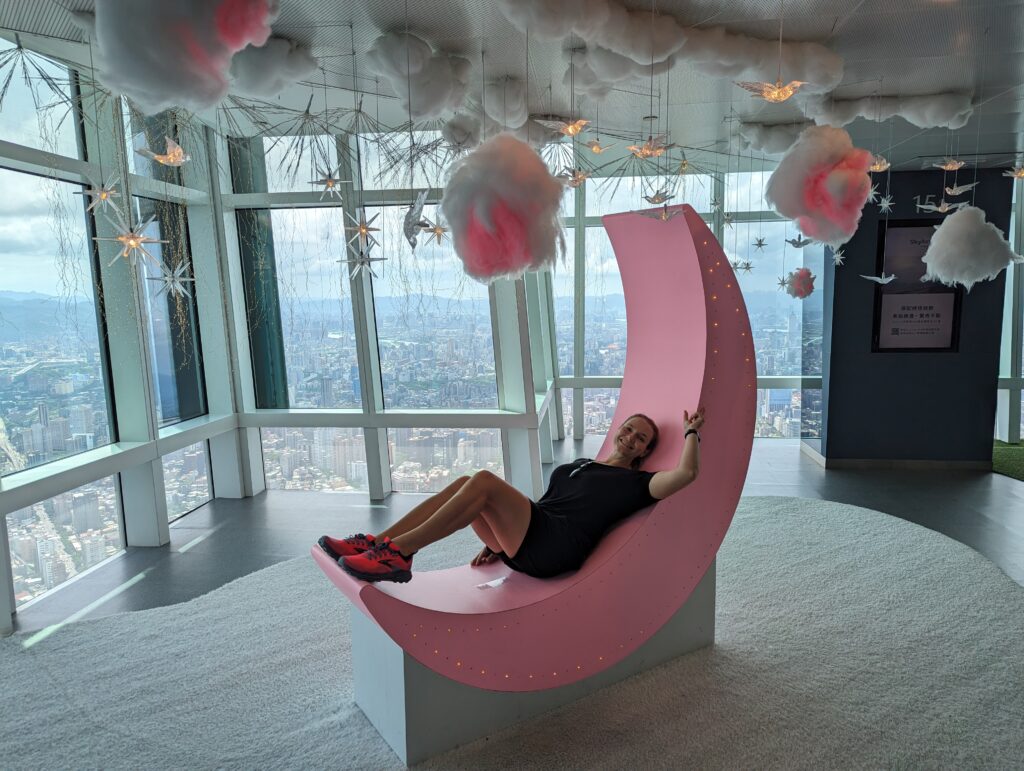 One particularly interesting part of Taipei 101 is the visible wind damper. Rather than hiding it in the internal structure, the architects chose to exhibit it to showcase the physics under consideration when building very tall buildings.
After enjoying the views of the city, we headed to the basement food court where we grabbed snacks at Mister Donut and beverages at Starbucks. Unfortunately, the doughnuts were not as good as our local mochi doughnuts shop. To be fair, though, they were one-third of the price and better than one-third as tasty. Angela was quite happy with her Vanilla Sweet Cream Cold Brew while I enjoyed the refreshing temperature, if not the flavor, of my BlackPink drink.
We returned to the hotel to take a break from the mid-afternoon heat and, before I knew it, I was snoozing upright on the sofa. We decided to call it a day and, after showering off the ridiculous amount of sweat we'd generated on our hike, we fell asleep for twelve hours.
September 1
As we struggled to adjust to the timezone, we woke up at 0300 and visited the well-appointed gym. The property has a good selection of machines and free weights, including a Smith machine.
After a vigorous workout, we cleaned up and departed the room for breakfast at 0630, arriving shortly after the restaurant opened. We enjoyed breakfast and the wide array of dishes on offer, but there wasn't anything particularly delicious or unique.
We fetched our water bottles and then set out for the 228 Peace Memorial Park. We took the Tamsui-Xinyi line from Taipei 101 and enjoyed a contemplative stroll, taking in the beauty of the well-maintained public space.
After leaving the park, we walked through the Liberty Square Arch on the way to the Chiang Kai-shek Memorial Hall. Liberty Square is large, bordered by the National Theater, National Concert Hall, and the aforementioned memorial. The buildings are quite beautiful, in my opinion.
We arrived shortly before the memorial hall opened and, fortuitously, got to witness the changing of the guard that takes place on every hour.
After the changing of the guard, we visited the exhibition hall on the ground floor of the memorial. There is a really neat mural on the floor right as you walk in that is painted in such a way that photos show it in three-dimensions.
In the middle of the space was a temporary art gallery featuring pieces related to the struggle for human rights on behalf of different disadvantaged peoples.
The rest of the hall is devoted to the long path Taiwan walked from the arrival of the Kuomintang to the guarantee of free speech and true democracy in the late twentieth century. While the exhibition was laudatory of Chiang Kai-shek in many ways, it didn't shy away from mentioning the human rights violations and violence he and his party visited on the Taiwanese people.
Interestingly, there is a Facebook Messenger based audio guide available. You can send a message to a specific account with an exhibit number and the account will reply with the correct audio clip.
When we departed, we took the MRT to Shilin Station where we transferred to the R30 bus, alighting at the National Palace Museum. We spent the remainder of the day admiring the many treasures of Chinese history present at the museum. We both agree that it is worth a visit if you're in Taipei.
While at the museum, Angela found a sign that sums up my posts on this blog: "Their arrangement is orderly, and the detail abundant." It made us both laugh.
After leaving the museum, we walked through the nearby Zhishan Garden. We admired the beautiful scenery and unique statuary, including several pieces featuring irate geese.
We reversed our transit steps to return to our hotel. On the way, we were lucky enough to see two Taipei dachshunds leaving the Pet Expo at the convention center nearby the property.
We relaxed for a bit before heading to the executive lounge to grab a few small bites. The evening spread was good, and definitely enough for a full meal if that's what you're looking for.
September 2
We had a leisurely start to the day in preparation for our mid-morning food tour. After breakfast and a weightlifting session, we cleaned up and headed towards Yongchun Station where we met our guide and fellow tourists. On the way there, we passed these interesting art pieces.
The food tour was quite extensive. We tried tons of different dishes and definitely walked away pleasantly full. First, we visited a local street market where we tried longan (known locally as dragon's eyes) and guava sprinkled with dried plum powder.
As we walked through the market, our guide told us that each butcher gets a single pig at the beginning of the day so, if you want a highly desirable part like a leg, you need to arrive early or have a connection. She also described the typical purchases a resident of Taipei might make as we walked past all the stalls.
The first restaurant we stopped at served gua bao – soft, warm buns stuffed with delicious pork. These are colloquially known as the Taiwanese burger, but our guide said they seem more like tacos to her. Regardless of what you call them, they're absolutely delicious.
Next, we stopped in a bakery for a savory confection featuring duck yolk and pork floss before polishing off a tasty piece of date cake.
Our next stop was a small shop window that served beverages and betel nuts. Betel nuts are a stimulant and, while I demurred, Angela gave it a shot. She reported feeling nothing out of the ordinary. I chose to enjoy an asparagus juice, as this is apparently a famous Taiwanese staple. It was tasty and refreshing.
The next restaurant we visited was Dai's House of Stinky Tofu where we were served the titular dish. It is one of the most famous Taiwanese offerings and one we were encouraged to try by our friends who had previously visited the city. We were given a raw version and a fried version. Angela enjoyed both, while I found the raw tofu ghastly and the fried tofu barely tolerable.
To cleanse our palates, we enjoyed some delicious sesame noodles at Sad Super Hot Noodles, a dish that Angela has previously made at home. While it is technically a 'cold' dish, in practice that meant it was served at room temperature.
We next tried misua, a gelatinous soup with vermicelli noodles. While flavorful, the texture is definitely not my favorite. We enjoyed how it paired with the provided black vinegar, though.
We got to try a local sample of Taiwan's famous boba tea at Truedan. It was quite delicious, as expected, and a nice cool down from the hot day.
Next, we stopped for a tofu tortilla wrap. For all intents and purposes, it was a tofu burrito. While the flavors were fresh, Angela and I agree that it could have used some sauce.
To finish off the savory portion of our tour, we stopped at a dumpling spot for xiao long bao and traditional cabbage dumplings. I ate almost all of the dumplings by myself as everybody else was getting full.
Our final stop was a sorbet shop for a sweet treat. I chose the lychee flavor while Angela enjoyed a pineapple and plum combination. Both were quite tasty!
Once the tour ended, we returned to the hotel as my ankle was starting to bother me a bit. We were both stuffed.
September 3
After breakfast, we set off for the Taipei Botanical Garden. It was nice to see tropical plants in an environment in which they are native. To say they were thriving would be an understatement.
We walked most of the way back to our hotel after finishing our visit, but stopped at 7-Eleven for some refreshment before dropping into the metro to finish our journey. Unfortunately, I was not paying attention and was drinking my beverage as we passed through the MTA turnstile and got scolded, rightfully, by a metro worker. On the way out of the MTA station, we stopped to pick up a couple of packaged buns for the following morning.
After a couple hours of rest, we headed to the gym and got a good lift in. We ordered room service to use our Fine Hotels & Resorts credit. We shared a Caesar salad, Taiwanese braised beef noodles, Taiwanese pork rice, and a hazelnut chocolate cake. I enjoyed each dish and, while I wouldn't specifically recommend eating at the hotel, I was happy to use up our property credit in a way that allowed us to relax during our last night in Taipei.
September 4
We woke up early, checked out, and walked to the nearby MRT station in the rain. We took the metro to Taipei Main Station before transferring to the Airport Express.
At the airport, we checked in, dropped our bags, and headed to the China Airlines lounge. It was absolutely packed. Other than the pair of seats we were able to secure right as someone departed, there was a single open spot. The food was good, though, with a nice mix of Asian and Western options. I always love when the lounges in Asian airports have a noodle bar (although I didn't avail myself of it this time).
Our flight departed twenty minutes late. Most regional China Airlines flights seem to be operated by their older A330 aircraft with a 2-2-2 angle-flat business seat. While not the most premium product, it was comfortable and the food and service were good. The only major downside of the seats was the lack of seat-adjacent storage.
Angela and I had applied for Indonesian eVOAs so, when we arrived in Indonesia, we walked directly to the immigration line. To say it was slow-moving would be an understatement. The officers seemed competent and efficient, but our fellow travelers seemed to be slowing everything up by not having the correct documentation or knowing the information required for entry.
Once we fetched our luggage, we stopped at an ATM to try to get some local currency. Unfortunately, my debit card was not working. Luckily, we always travel with Angela's debit card as well so we were able to get the cash we needed. Later in the trip, we would both clear some fraud alerts with Charles Schwab and resume using our cards without issue.
We met our driver, Losyan, in the arrivals area and walked to his car to start our drive to the northern part of Bali. I am so happy that Losyan was recommended to me by a friend. He was a polite, friendly, and safe transport option for us and well worth the money.
Our drive from the airport to Tembok lasted three-and-a-half hours. We traversed a mountain range and arrived at our first Balinese hotel half an hour after sunset. When we arrived, we discussed the plan for the following day with Losyan and parted ways.
The hotel greeted us with a neck and shoulder massage followed by a foot bath and scrub. We were then escorted to the private villa where we spent our first two nights. I paid a small upcharge to upgrade from the standard room to the villa and, in my opinion, it was well worth it.
After taking a shower, we walked to the restaurant to eat dinner. The property we stayed at is all-inclusive of meals, so we were able to just sit down and choose our dishes without worrying about anything else. In general, the food on-property was very good, both in terms of portion size and taste. The ingredients were fresh and the flavors were good. I enjoyed each of the Balinese dishes that we sampled.
After a very long day, and a much-needed meal, we headed to bed.
September 5
We woke up early and arrived at the restaurant just as it started serving breakfast. Fortunately, they were happy to accommodate us with a quick meal as we needed to meet our driver for the journey to Tulamben where we'd be diving on the USAT Liberty.
Losyan picked us up and drove us to the Let's Dive Tulamben office. There, we met our dive master Ketut who would be working with us during the day.
Ketut walked us through the two dives we'd be doing, gave us instructions on how to dive, and then we suited up and headed to the beach. Our first dive was at an underwater statue garden. The coolest thing we saw during this dive was a huge sea turtle feasting on some plants.
We were in the water for about thirty-five minutes before returning to shore and driving back to the dive center. We rested for thirty minutes while Ketut prepared for our next dive. The young assistant we chatted with was quite nice, saying that we looked like we were in our late twenties and asking if we were on our honeymoon. I guess the humidity in Taiwan and Bali agreed with us.
Our dive on the shipwreck that followed was great and a cool new experience for us. We both really enjoyed the environment we were in and our dive master was able to capture some cool pictures of us.
Again, our dive lasted about thirty-five minutes. When we were done, we ate some delicious fried noodles for lunch. Angela generously shared her plate with me.
Losyan picked us up shortly after lunch and drove us back to our hotel. We weren't quite ready for second lunch, so we headed to the small fitness room to get a quick workout in. Angela absolutely dominated her run in spite of the hot conditions.
We freshened up and then enjoyed lunch at the property's restaurant. I ordered the Balinese curry, a vegetarian dish, but the waitress kindly insisted they add some chicken to it for me. I must look hungry, I guess.
We lounged on our private patio until 1530 and then walked to reception to start our complimentary spa treatment. The property offers a fifty-minute treatment every day of your stay. Because we arrived so late on our first night, they combined our two sessions into a single hundred-minute treatment.
First, we put our feet into black volcanic sand while our legs were steamed. We were given some frozen snacks during this part of the treatment. After about fifteen minutes, we rinsed our feet off and headed over to the treatment room for a fifty-minute massage and fifty-minute Balinese facial.
I enjoyed the massage and my first ever facial treatment and we left the therapists feeling quite relaxed. We returned to our villa to hang out before another delicious dinner and then got some much needed sleep.
September 6
We had originally planned on hiking Mount Batur at sunrise, which would have required waking up at 0200 for the drive to the trailhead. Because of my ankle issues, combined with the fact that we didn't particularly want to wake up that early, we decided to cancel the hike. As such, we had a leisurely final morning in Tembok. After breakfast, we took a walk on the beach, hung out in our private pool, and relaxed on our patio.
We checked out and met Losyan at the hotel entrance. The property gave us each a hard-boiled egg to symbolize rebirth.
We drove back through the mountains to the Bali Pulina coffee plantation. Angela and I were both quite hungry when we arrived, so we stood in the parking lot and ate our eggs while Losyan parked. We asked him to accompany us for the Premium Coffee Experience.
I emailed ahead to confirm a booking, but it was an extremely informal experience. When we arrived, I was asked for a copy of the email on my phone and, apparently, that was sufficient for us to start our tour. First, we fed a luwak some coffee cherries.
Then, we saw the coffee beans in their various stages of preparation and a traditional and modern coffee roasting setup.
Finally, we sat down to enjoy some delicious snacks, a flight of five different coffees, and some smoothly brewed luwak coffee.
Before leaving, we picked up some souvenirs at the retail shop at the exit.
We drove through Ubud on the way to our next hotel. The traffic in Ubud is horrendous and it took quite some time for Losyan to navigate the throng of vehicles. Finally, we arrived at Mandapa, a Ritz-Carlton Reserve.
Several staff members greeted us immediately as we walked into the open-air reception area. We were given a cool towel and a refreshing drink as we were walked through an introduction to the property. A staff member also fastened a bracelet of spiritual protection around each of our wrists. The view from reception is awesome and we were encouraged to take pictures.
We were informed that we'd been upgraded to a one-bedroom villa and we'd be completing check-in at the villa. Our point-of-contact, Caca, escorted us to our room via cart and gave us a tour of the property along the way.
After a tour of our room and living space, we completed check-in formalities and requested that Caca make us a reservation at Ambar, the property's Japanese fusion restaurant, for dinner. She gave me her WhatsApp number so I could stay in touch throughout our stay.
To say that the villa we stayed in was extravagant would be an understatement. We have stayed in a lot of nice hotels in various locations, and this property probably ranks as the best. The property also provided us a ton of free snacks and set up a flower display in honor of Angela's belated birthday that we were celebrating.
That afternoon, we relaxed in our private pool, lounged in the outdoor living area, and took in the grandeur of our surroundings. We walked to dinner that evening and enjoyed a variety of sashimi, two sushi rolls, beef ramen, and chicken yakitori. Everything was delicious and, while not cheap, was much less expensive than what a similar meal would cost at other Ritz-Carlton locations.
We returned to the room to eat one of the desserts we'd been gifted and relaxed in the outdoor living room, reading until my eyes refused to remain open. Then, it was off to rest in one of the most comfortable beds I've ever had the pleasure of sleeping in.
September 7
Breakfast started at 0730 and offered both buffet and a la carte options. Everything that we ate was delicious. The coffee was very good, with Angela delighting in the refreshing cold brew on offer. We ate a variety of Balinese and Western dishes until we were stuffed full. In addition to the delicious food, the service experience was exquisite. Someone was always available to help, whether that was taking your order, offering you a dish you might not know you wanted, getting the chef to remove the skin from snake fruit, or anything else.
We returned to our room and changed for a complimentary photo shoot that we were offered. At 0930 we were guided around the property by the in-house photographer, taking a lot of fun shots in various locations.
After the official photo shoot, Angela was kind enough to do a personal photo shoot for me back at our room before relaxing in the pool.
We ate a bunch of fruit from the generously stocked basket in our room before heading to the gym. It is well-equipped with a good variety of free weights, weight machines, and cardio machines. Again, the staff experience is excellent as we were asked multiple times if we needed anything and asked at the end of our workout session if we enjoyed ourselves and if there is anything that the property could do better.
We stopped by the photographer's office at 1400 to choose our complimentary printed photo. We chose not to purchase the digital files or any additional photos given the absurd pricing for doing so.
Returning to our villa, we relaxed the afternoon away in our pool and hanging out on the lounge chairs or in the outdoor living space. I messaged Caca during this time to ask for a late checkout and was informed that we'd be able to extend our stay until 1300 the next day.
For dinner, we chose to sample the prix fixe menu at Kubu, Mandapa's Mediterranean restaurant tucked into a Balinese rainforest. This juxtaposition makes for a very unique experience, in my mind.
We took our place in our private dining cocoon, ordered a couple of mocktails, and started the sumptious meal. While not cheap, and not the best prix fixe menu we've ever eaten, we both enjoyed many of the dishes, with some of them being absolute delights.
I don't regret eating at Kubu, but would have been just as happy dining at Ambar again. After dinner, we were taken by cart back to our room where we enjoyed the relaxing sounds of the rain forest.
September 8
After another delightful breakfast, we relaxed in the outdoor living area while I watched the NFL Kickoff game. We headed to the gym to enjoy a workout before returning to the room and jumping in the pool to cool off. After showering and packing, I messaged Caca to inform her we were ready to check-out.
Caca came to our villa to handle the process. Our luggage was taken to reception and loaded into Losyan's car while we made our way to the entry. Our stay at Mandapa was exquisite. If you have the ability to stay there, we would strongly encourage it.
After leaving Mandapa, we visited the Sacred Monkey Forest Sanctuary in Ubud. We enjoyed our time with the monkeys and were particularly delighted by the small ones clinging to their mothers. Unfortunately, we saw a bunch of tourists breaking the rules and taunting monkeys, grabbing monkeys, and generally being a huge nuisance.
Losyan picked us up after we got our fill of the monkeys (and other people) and drove us to Uluwatu. Because of traffic, the relatively short drive took almost three hours and we arrived at our next hotel around 1815. Along the way, Losyan found us an ATM that we could stop at to get some cash for the rest of our time in Indonesia.
Once we arrived at our hotel in Uluwatu, we said goodbye to Losyan until our departure day and commenced check-in formalities. We were provided with some snacks and a refreshing welcome drink, confirmed our cooking class experience that I'd pre-booked, and driven to our room.
Regarding the cooking class, the check-in agent refused to believe that I'd paid for the class even after I showed the receipt and order confirmation. This continued to be an issue for the remainder of our stay, so more on it later.
The property is undeniably pretty, but it felt like the entire resort was geared towards the Instagram crowd. We liked our villa and the lounge space it afforded us, but realized over the next couple of days that the resort gets very loud, both because of the adjacent beach club and the constant wedding celebrations, which ruins the vibe, in our opinion.
For dinner, we ordered in-room dining. I chose crispy duck with rice while Angela opted for fish and chips. We enjoyed both dishes.
September 9
At 0730 we met the sous chef who'd be guiding us throughout the day along with our driver who would be transporting us during the morning's adventures. Our first stop was a traditional village market where the chef gave us an overview of all the ingredients for sambal and spice paste. Angela was truly in her element, and it was apparent that she and the chef both shared a deep knowledge of the various ingredients that we were being shown. For both of us, though, bitter ginger was a new culinary item that we'd never seen before.
After the market, we visited a fisherman's village where the local laborers haul their catch after every overnight expedition. We saw the catch being ice-packed into chests for transport to the local market and, in some cases, for export. The chef walked us through the logistics of the operation.
Finally, we went to the local fish market where we saw a wide variety of sea creatures for sale. Most of the produce are caught and sold locally, but there is also a vibrant market for imported fish like salmon.
We returned to the property where we ate breakfast. The resort offers a la carte dishes on demand in whatever quantity you want with a menu that changes daily. The selection is good, but service was a little on the slow side and the Balinese dishes definitely come off as inauthentic with how little spice is used in them.
At 1130, we met the chef at the in-house garden. A cooking station was set up with dual burners and a wide array of ingredients. We made several dishes, including spice paste, steamed pumpkin cake in banana leaves, young papaya salad with prawns, minced fish skewers, and grilled fish in banana leaves.
The class was hands-on and, because we were working directly with the chef, we could make things a little bit more authentically Balinese than the typical fare offered on the hotel restaurant's menu. While we did some of the work of chopping and grinding, most of the prep work was completed before we arrived. We were along for the ride, so to speak, aside from filling the banana leaves and packing the minced fish skewers.
We briefly returned to our room before heading to Warung, the property's Balinese restaurant. In addition to the dishes we made, we were served soup, rice chips, a huge sambal selection, three bowls of rice, and a delicious coconut sorbet. The amount of food was so overwhelming that we packed up half the meal to take back to our room to eat later. The food was delicious and we're glad that we were able to play a part in preparing it.
The latter half of the afternoon was spent relaxing on the patio and reading before lounging in the enormous bathtub to finish off our day.
September 10
After another tasty breakfast, we spent about an hour reading on our outdoor patio before setting off for the nearby beach. Reaching the ocean requires walking down 600 stairs starting behind the property's main infinity pool.
On the beach, we saw a ton of aquatic wildlife including slugs, crabs, and a variety of fish. The tidepools were swarming with activity and it was a treat to see it all.
Returning to the room, we relaxed for the rest of the afternoon, spending some time in our pool and lounging on the deck. In the early evening, we headed to the gym where we enjoyed some weightlifting and cardio work. After the gym, we returned to the room and ate our leftovers from the previous day before relaxing on the patio.
September 11
Our last day at the resort was interesting, to say the least. We woke up to find that there was no running water in the room. We couldn't flush the toilet, take a shower, or wash our hands. I ended up pouring some pool water into the toilet tank to force it to flush. I called the front desk, and they told me they were aware of the problem and working to fix it.
We went to breakfast and, hopeful that there would be water in the main areas of the property, tried the bathroom sinks in both the restaurant and gym. Neither worked, unfortunately.
I also talked to the front desk manager as there was some confusion about whether I paid for our cooking class ahead of time. I showed the receipt from the Hyatt Experiences website, but that wasn't sufficient and I had to spend an hour of our last morning in Bali on the phone with Hyatt so they could work with the property to relay the experience had already been paid for.
We went to the gym for twenty-five minutes before returning to the room, hoping to reserve a shower at one of the three-bedroom villas that, apparently, still had running water. Luckily, the water in our room came on right as we were supposed to be picked up so we were able to spend some time in the pool before freshening up.
We packed up and checked out at 1200, meeting Losyan for the forty minute drive to the airport. Once there, we said our goodbyes, grabbed a selfie, and headed inside for our long journey home.
Service at the airport was fast and efficient. After clearing immigration, we visited the Garuda Indonesia Lounge before our flight to Taipei. The food selection was decent, but nothing to write home about. The lounge was much more peaceful than the terminal, though.
Our flight to Taipei was on the same plane as we'd flown to Bali. When we landed in Taiwan, we walked through the transfer area and visited the China Airlines lounge where we both enjoyed a variety of snacks and drinks. Our flight to San Francisco departed on time. I chose to eat dinner on the flight while Angela went to sleep immediately and only woke up about ninety minutes before landing. I thought the China Airlines flight was very comfortable with good bedding, a nice mattress pad, and a comfortable, if somewhat narrow, seat.
When we arrived in San Francisco, we had to wait for a long time to collect our luggage before exiting the secure area, taking the AirTrain to United's terminal, and checking in for our next flight. Thankfully, because of our United status, we were able to skip the bag drop line and spend some time in the Centurion Lounge before our flight. I was starving, so I really enjoyed sitting down and stuffing my face full of chicken.
Our flight from San Francisco to Las Vegas was uneventful. After collecting our bags, we hailed an Uber for the ride home, eventually arriving at 0100 on September 12th.
We enjoyed our trip to Taipei and Bali quite a bit, even if we were less physically active than we would usually be. Most of this is due to the severely sprained ankle that I suffered before we departed, but we also made a conscious decision to slow down and actually spend time relaxing in a tropical paradise rather than filling every moment with an activity.