My brother and I recently returned from a visit to London with a one-night stop in Venice during our journey home. The primary reason for this trip was to attend the Atlanta Falcons versus Jacksonville Jaguars game at Wembley Stadium, part of the NFL in London series. We arrived in the city a few days before the game so that James could enjoy a small sample of what England has to offer.
On the way home, due to a flight deal I found that departed from Italy, we visited Venice for eighteen hours before departing for Seattle. I chose Venice as our point of departure because it is one of the major Italian cities that James and I didn't visit during our trip to the country last year.
To say we had a great time would be an understatement. We enjoyed historical artifacts, the landscape of modern London, a variety of delicious dishes, a day of unmitigated fandom, and some solid football. In addition, James got to meet several of my close friends for the first time.
Bookings
As with most of our trips, our itinerary evolved due to involuntary schedule modifications and constantly changing award availability. In the end, I was very happy with the shape of our travel.
Flights
We were originally booked to fly from Chicago to London, but award availability opened up ex-SFO and, because I strongly prefer west coast departures to Europe, I decided to make the change. Unfortunately, there wasn't any availability for the connecting flights to our long-haul, so I had to book those separately.
The most complex booking on this itinerary was our return from Europe, an open-jaw business class fare that will return us to Spain next year. I shared this fare on FlyerTalk's Premium Fare Deals forum after I booked it. The cost per person, after accounting for the 35% rebate realized by booking with a Business Platinum Card, was very low.
As usual, all positioning flights on United Airlines were booked using TravelBank funds.
James

308.90USD
70,000 Air Canada Aeroplan Points + 75.10CAD
13,500 British Airways Avios + 51.00USD
102,808 American Express Membership Rewards points after 35% rebate

VCE-LHR on BA J
LHR-SEA on BA J
SEA-LHR on BA J
LHR-MAD on BA J

Nicholas

123.90USD
55,000 Aegean Airlines Miles + Bonus Miles + 5.60USD
13,500 British Airways Avios + 51.00USD
102,808 American Express Membership Rewards points after 35% rebate

VCE-LHR on BA J
LHR-SEA on BA J
SEA-LHR on BA J
LHR-MAD on BA J

7,000 Delta Airlines SkyMiles + 5.60USD
Hotels
Angela and I stayed at The Trafalgar for one night when we visited London last year and I preferred it to the Conrad. As such, it was easy for me to settle on that property, especially given the relative pricing between the two hotels. For our one-night stay in Venice, I went back and forth between the St. Regis, which would have been new to me, and The Gritti Palace, where Angela and I stayed in 2018. In the end, I chose The Gritti Palace because I thought that James would appreciate the history and uniqueness of the property.
Transport
I splurged for the Heathrow Express on this trip so that we could start our trip as quickly as possible once we landed and because I knew it'd be a little bit more comfortable than riding on the Piccadilly Line.
For our trip to Nottingham, I chose to book the first-class cabin because the additional cost per ticket was small, and I knew we'd get snacks and drinks on East Midland Railways in addition to more comfortable seats. Given the long day I had planned, I thought this would work in our favor.
Two tickets for 37.00GBP per ticket for London Heathrow to London Paddington on the Heathrow Express, roundtrip
Two tickets for 86.50GBP per ticket for London Saint Pancras International to Nottingham on East Midlands Railway, roundtrip
Activities
While our tickets to the NFL game were much more expensive than the face value of some random seat, I was happy to pay the cost given that it is nearly impossible to buy tickets at face value. The overwhelming demand for the London games means that the ticket queue far exceeds the number of available tickets.
In addition, purchasing tickets as part of the hospitality package ensured that we'd have a contiguous block of great seats for our entire eight-person group. Finally, the hospitality package included unlimited drinks and a large selection of food for three hours before kickoff, during halftime, and for an hour following the final whistle.
Given the number of beverages that James and I both drank, I think we likely came out ahead. This was all colored by the price that our group of three paid last year on the resale market, which was nearly the cost of the hospitality package tickets that we bought this time.
The escape room we visited was very well-priced, in my opinion, and I would wholeheartedly recommend it to anyone who is a Warhammer 40k fan. I'll discuss it in a bit more detail later on in this post.
Finally, the musical tickets that I purchased were very cheap, in my opinion, especially for the quality of the seats we were in. I initially tried booking using the London Theatre Week discount, but the ticketing system automatically suggested better seats at a lower price and auto-applied a discount code. It was probably the most consumer-friendly transaction I'll make this year.
Two tickets for 65.96GBP per ticket for Dress Circle tickets to Les Misérables at the Sondheim Theatre
One session for 60.00GBP per session for the Escapologic Immaterium Escape Room
Two tickets for 550.00USD per ticket for Atlanta Falcons versus Jacksonville Jaguars game at Wembley Stadium with the Touchdown hospitality package
September 26
I woke up very early and Angela drove me to the airport. We arrived twenty minutes before my flight was slated to board. Luckily, the journey from curb to gate only lasted thirteen minutes. My economy flight to San Francisco was uneventful and, when I landed, I headed to the Polaris Lounge to relax until James arrived.
While waiting for my brother, I visited the private dining room and was seated immediately. I ordered an omelet, which was quite tasty, and enjoyed a couple of cappuccinos. After breakfast, I found a place to chill out and monitored James's flight from Seattle. I was a little worried because his flight was delayed fifty minutes. I started researching alternatives in case the delay lasted any longer but, happily, James was boarded and departed Seattle about forty-five minutes later than scheduled, well within the margin of comfort.
When James arrived in San Francisco, he walked to the Polaris Lounge where they checked his passport and issued him a boarding pass for the flight to London. We headed to the private dining room where we put our name on the waitlist and were given a buzzer that would call us back. Twenty minutes later we were seated for lunch. I ordered the grilled salmon while James opted for the tomato soup and vegetarian pasta dish.
After finishing our meal, we packed up and walked around the terminal before boarding our flight around noon. Boarding was straightforward and the Polaris seats continue to be some of my favorite in the sky. I sat us in the middle bulkhead seats in the rear business class cabin which gave us a little bit more legroom in the foot well. I ate two desserts after take-off and proceeded to sleep for most of the flight, waking up an hour before landing.
September 27
After landing, we were some of the first people off the plane. Clearing immigration was straightforward but, unfortunately, the biometric chip in my passport seems to be malfunctioning and can't be reliably used at electronic immigration gates. The border officer didn't even say anything to me after taking my passport, handing it back to me and gesturing for me to move along.
James and I visited the Arrivals Lounge and took some much-needed showers. I was impressed by the shower facilities, both the number of shower stalls and the quality of the fixtures.
After cleaning up, we both ate a light breakfast. The offerings were fresh and varied, with something for everyone.
We walked to the train station to take the Heathrow Express to Paddington Station where we transferred to the Bakerloo Line. I continue to appreciate the ease-of-use of London's public transit system. Being able to use any contactless payment card or device makes everything so simple.
We exited the Underground at Charing Cross and walked across the street to our hotel. I confirmed our reservation for two rooms, checked us in, confirmed the benefits accorded to us because of my status, and left our bags with the bellman to be placed in our rooms when they were ready. The check-in experience was great and both the doorman and reception agent were friendly and welcoming.
After unburdening ourselves, we walked to the British Museum, stopping along the way to take a few pictures in Trafalgar Square and with some gorilla statues, part of a public art display.
When we arrived at the museum, we quickly passed through security before entering the main gallery.
First, we spent some time with the artifacts from Ancient Egypt. This is the logical starting point for any visit to the British Museum, in my opinion. The collection of artifacts from the region is probably the largest outside of Egypt itself.
James spent a few minutes checking out the Rosetta Stone (once he figured out why people were crowded around a giant black rock).
After the Egyption artifacts, we moved on to Assyria. James was particularly excited to see the Black Obelisk of Shalmaneser III – he'd been talking about it in the weeks leading up to our trip so it was great to view it in person alongside other Assyrian artifacts.
We continued on to the Ancient Greek exhibition. Famously, and controversially, the British Museum hosts the Elgin Marbles, a collection of sculptures from the Parthenon (that Greece would now like returned).
Because we spent so much time in the Uffizi last year, we skipped most of the Greco-Roman statuary in the British Museum, walking swiftly through the galleries containing those artifacts. By this point, we were quite hungry so we made a beeline for the museum's Coffee Lounge. We ordered a couple of flat whites and some light snacks, including a cinnamon bun and piece of carrot cake.
During the remainder of our time at the museum we checked out the Nimrud Ivories (another item that James was particularly excited about), artifacts from Ancient Mesopotamia, and objects from early Europe up through the period of the Roman occupation of Britain.
We returned to the hotel after spending almost six hours in the museum. Our rooms were ready when we arrived and we spent a bit of time freshening up and unpacking before heading for dinner. The rooms at the Trafalgar are relatively spacious for a European metro with excellent fit and finish.
Given the great experience that Angela and I had last year, we walked to Seven Dials Market. I knew there would be a bunch of options for James to choose from and we could each get something we wanted.
I chose to have some Uzbeki dumplings from Oshpaz Dumplings and a variety of sushi from Sukoshi, a new vendor since my last visit. James opted for a spicy vegetarian curry from Curry on Naanstop.
After eating our fill, we walked down to the Westminster area so James could catch a glimpse of Big Ben and Westminster at night. While there, a woman asked James if she could take a picture of the back of his shirt because the quote on it touched her. He said sure and, while she was taking the picture, I explained that his shirt was a memorial to our sister, Renee, who died young. She got quite emotional and thanked us for sharing with her before turning and walking away from us.
To finish the day, we walked back to the hotel along the Thames.
With that, our first day in London was complete and we turned in for some much-needed rest.
September 28
I mentioned before that I loved The Trafalgar's breakfast options on our last visit, and they continued to impress on this stay. Every morning at breakfast, James and I would drink a couple of flat whites, order an avocado toast with poached eggs, and raid the buffet to fill up for the day's activities.
After breakfast, we took a stroll through St. James's Park on the way to Buckingham Palace. As we entered the park, I stopped to snap a photo of a very handsome black and tan dachshund.
Once we reached Buckingham Palace, we stopped to watch the horse guard pass by before taking in the crowds, the surrounding statuary, and the gilded fencing.
We stopped to see the Wellington Arch before continuing into Hyde Park.
Walking through Hyde Park, I figured we'd done enough aimless wandering and set our course for the Tower of London. We hopped on the Underground and took it to the Tower Hill stop before alighting and walking around the Tower of London to Tower Bridge. While we didn't cross it, I snapped a few great pictures of James with the iconic structure in the background.
After buying our tickets, we entered the Tower of London. Luckily for us, the Yeoman Warder tour started five minutes after our entry. We descended into the moat to wait and then enjoyed a forty-five-minute tour through the complex filled with facts about the Tower of London and stories from its history.
After the tour, James and I explored the site on our own. We viewed the Crown Jewels of the United Kingdom, enjoyed an exhibit on the Royal Fusiliers, and toured the battlements and the White Tower, which contains the armory.
We left the Tower of London and walked most of the way back to our hotel, hopping on the tube for the last three-quarters of a mile. After quickly changing for the musical that we'd be seeing later that evening, we met outside. While I was waiting for James, I chatted a bit with Tony, the doorman who'd been assisting us since we arrived. He recommended that we walk to Chinatown for dinner rather than eat at the Thai restaurant next to the hotel. We took his recommendation to heart and headed that way.
I glanced at Google Maps to find an appropriately rated restaurant, choosing Chuan Royal China because of the variety of dishes on offer and the positive reviews. We asked if there were any tables available and, after a bit of a commotion, we were told we could have a table as long as we agreed to leave by 1900. We told the hostess that wouldn't be a problem.
James ordered a bottle of Tsingtao, a Chinese beer, and then we dove into the menu. The older Chinese woman taking our order recommended against ordering too much, but I promised her that we'd be able to eat everything. I chose the xiao long bao, barbeque pork dumplings, and har gow. James opted for the vegetarian dumplings and fried noodles with vegetables (which I ended up eating a quarter of). We shared the black gold lava buns for dessert.
Overall, it was a great meal and exactly what we needed after a long day of tourism before sitting and watching a show for several hours. We finished well in advance of our 1900 deadline so, after paying the bill, we set off to wander around the area near the Sondheim Theatre. We enjoyed taking in the local scene before seeing the show.
At 1845, we hopped in the queue to enter the theatre. The doors opened a bit earlier than we expected, but we later found out that was because we were lucky enough to be seeing the 15,000th showing of Les Misérables in London. We were each handed a free drink voucher on the way in.
First, we located our seats and snapped a few pictures of the stage before the theatre started to fill up.
Then, we headed to the bar to grab a free glass of Prosecco for James and a free Diet Coke for me. We enjoyed the drinks at our seats while we waited for the show to begin. The theatre was comfortable, with wide seats and plenty of leg room. It compared very favorably to many of the theatres that Angela and I have visited on Broadway, which tend to be a little more cramped.
The production was wonderful, with an excellent cast, stunning visual effects, and great set design. For the price I paid for the tickets, I feel like we got enormous value. It was great to share this particular musical with James because it was the one that first made me appreciate the art form.
After the show, we walked to the hotel through a light drizzle and called it a night.
September 29
After an early breakfast, we walked to Leicester Square station and took the tube to London Saint Pancras International to connect to our train to Nottingham. We arrived a little early, so we walked around the station. I particularly enjoyed the statues on the upper level and the small badges in the floor with thought-provoking words.
We boarded our train ten minutes in advance of departure and took our seats. On both the journey to and from Nottingham, we were lucky enough to be assigned the single seats facing each other on the window.
Our journey to Nottingham was very pleasant with table service including coffee, tea, and biscuits.
When we arrived in Nottingham, we oriented ourselves and then started walking towards the escape room that I'd booked. We arrived a little earlier than I expected, so we headed towards the city center and then wandered around for twenty-five minutes.
Finally, I was ready to spring the first surprise of the day on James. We entered Escapologic and were introduced to our game master. He gave us a brief overview of the escape room safety procedures and then relayed the story of the room, a Warhammer 40k experience. This was both my and James's first escape room ever, so we appreciated the introduction, and our game master was a great help during the game by providing a couple of excellent in universe hints when we got stuck.
You aren't allowed to take pictures in the escape room itself, which makes sense, but believe me when I say that it felt completely immersive. Being enormous fans of the fiction, both James and I felt like we were inhabiting the universe. I would recommend Immaterium to any Warhammer 40k fan and I'm glad that we went out of our way to visit it.
We eventually escaped after working together to solve all the puzzles. I think that we did a pretty good job. The only major hint that we received related to an object that we missed when searching the initial area.
After snapping the above picture, one of the staff members unfortunately spoiled the second surprise that I had for James, a visit to Warhammer World. With the cat out of the bag, James and I set off along the canal to the Games Workshop headquarters.
We arrived after a half-hour of walking and snapped a few shots with a Space Marine statue and life-size Rhino transport.
I took a photo of the Age of Sigmar and Warhammer 40k emblems on the side of the building as well.
We entered, purchased tickets for the exhibition, and enjoyed a few hours of unmitigated nerdiness, admiring all of the individual painted models along with the incredible large-scale dioramas. For me, it was amazing to see all of the models that appear in White Dwarf magazine every month. For James, it was an introduction to many parts of the Warhammer Fantasy and Warhammer 40k universes that he didn't even know existed.
The detail on some of models is absolutely insane. I tried my best to capture some interesting shots, but it is difficult with the glare on the glass cases they're housed in. For me, the dioramas of Loken fighting Abaddon, from the third Horus Heresy novel, and the scene of Horus fighting the Emperor with a fallen Sanguinius, from the forthcoming The End and the Death, Volume III, are the real highlights. There was an additional diorama of an Imperial Titan being prepared for battle I didn't manage to capture a good photo of, but it might have been my single favorite piece in the entire exhibition.
After a couple of hours in the Exhibition Centre, we stopped in the shop for a few moments, visited the gaming room, and then departed for the Nottingham city center. We grabbed a coffee before walking to the train station for our ride back to London. Right outside the station, we saw an exceptionally well-behaved dachshund, who I asked to take a picture of.
On our return, we were offered sandwiches and drinks, which we happily wolfed down. We were both sated and tired, so we decided to pass on dinner for the evening and returned to the hotel to get some rest.
September 30
After breakfast, we briefly met up with Nathan and his family in Trafalgar Square. They'd arrived earlier in the morning and were setting off to explore London while James and I were headed for the Natural History Museum.
I reserved tickets in advance for the first slot that was available, 1115. Even though we arrived at the museum at 1000, when it opened, we were able to skip the huge line and enter as ticketed customers.
We enjoyed the Natural History Museum, but feel it is better suited for children as most of the information is remedial. I liked the dinosaur fossils and skeletons on display, thought the recreation of a Japanese supermarket undergoing an earthquake was interesting, and enjoyed seeing the collection of hominid skulls and artifacts on display in the Human Evolution exhibit.
After leaving the museum, we hopped on the Underground to Camden Town and met up with the Michael family to grab some Yorkshire Burritos. There was a long line for both ordering and pickup, and I wouldn't wait for it again, but I'm glad we took the time to try it. The "burrito" tasted exactly like I expected it to and I personally thought it was quite delicious.
We left Nathan and family to get interviewed by Sky Sports and made our way to the Blue Boar Pub at the Conrad Saint James to meet up with David and Paul, who had arrived in London right before noon. On the way, we spotted a nervous little dachshund on the tube.
At the pub, we had a couple of drinks while chatting for a few hours. Eventually, Nathan and Courtney returned from the Jaguars autograph session and joined our group.
James and I returned to the hotel for a bit to freshen up before meeting David, Nathan, and Paul outside The Admiralty (the pub across the street from The Trafalgar) and walked to Leicester Square Kitchen, a Mexican and Peruvian restaurant that David found for us. We ordered a ton of food, including:
Signature guacamole
Crispy baja fish soft tacos
Dry-rubbed short rib soft tacos
Crispy duck and pomegranate salad
28-day-aged rib-eye steak
Grilled soya mince empanadas
Cilantro lime rice
Sea bass ceviche
Chicken wings with green habanero chili sauce
Grilled wagyu sliders
Grilled chicken skewers
Grilled street corn
Mango rice pudding
Doughnuts
Everything was delicious, especially the ceviche and baja fish soft tacos. We didn't capture pictures of all the dishes, but here's a sample.
After dinner, Nathan returned to his hotel while David, James, Paul, and I visited the aforementioned pub, The Admiralty. It was the Atlanta Falcons pub for the weekend, so my companions grabbed some beers and we headed downstairs for some drinks and discussion.
We called it a night after an hour. Frankly, I'm surprised and impressed that David and Paul lasted so long into the evening given the long day they'd both had!
October 1
We met our fellow attendees at Westminster Station at 0945 and waited for everyone from our group to arrive. While there, I was able to snap an atmospheric shot of Big Ben.
When everyone arrived, we hopped on the Underground for the journey to Wembley Park Station. When we arrived, we were greeted by a lively atmosphere along a concourse fully decorated with Jaguars regalia. The vibe was a little different from the game at Tottenham Hotspur Stadium last year but was still very enjoyable.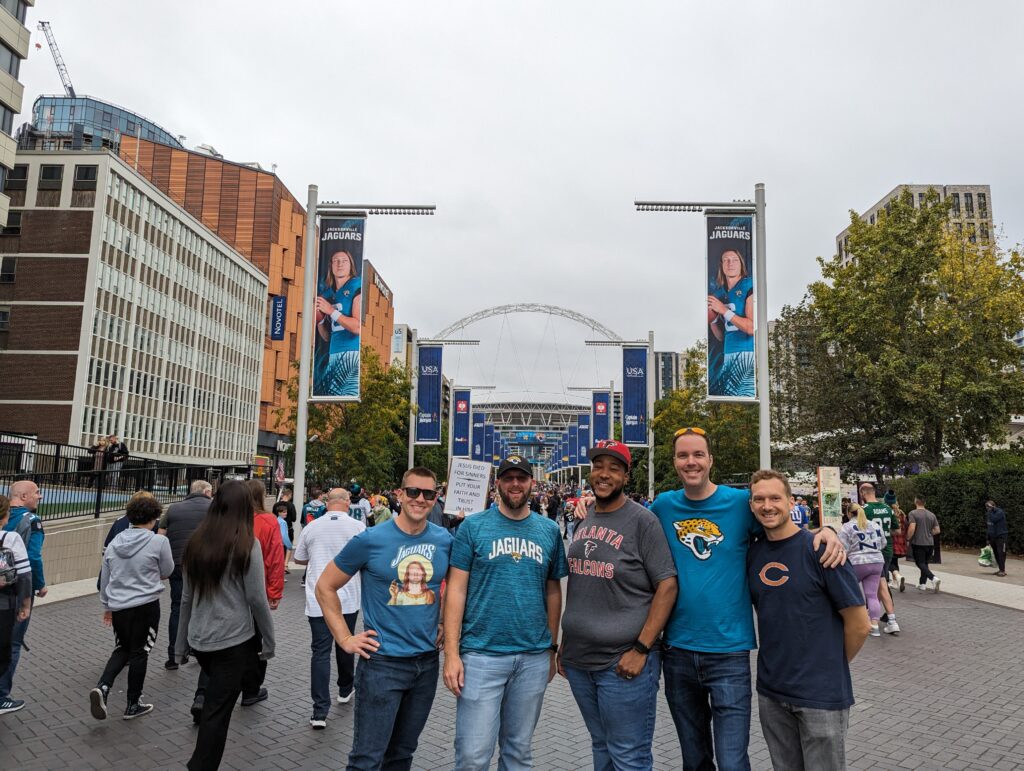 After traversing the concourse, we visited The Jungle, a fan zone with various activities, a DJ, and performances by The Roar, the Jacksonville Jaguars cheerleading troupe. There, James and I competed on a blow-up obstacle course. I won, but only because James fell down. Otherwise, I'm fairly sure he would have absolutely smoked me.
At 1130, we decided to head into the stadium and walked to our hospitality suite. We were all given lanyards that indicated we had access to the suite so we could come and go freely. We loaded up on food from various buffet stations and drinks from the bar. The dishes were better than your average stadium food and, more importantly, you could eat and drink as much as you wanted rather than paying individually for enough food to fill up.
Before the game started, we made our way to our seats where we found that the view of the action would be perfect. We were high enough to see the entire field, with a symmetrical view of play.
The game was fun, but not exactly exciting. I was happy to see the Jaguars win but was disappointed by how poorly the Falcons played from start-to-finish. Their lone bright spot at this point seems to be Bijan Robinson, who is absolutely electric.
We visited the hospitality suite for more drinks during half-time and after the final whistle. An hour after the game ended, we made our way back to transit and returned to our hotel.
After a short rest, we walked to the Conrad to meet Courtney, David, Nathan, and Paul before heading to Dishoom for dinner. Fortunately for us, we only had to wait twenty minutes before being seated and ordering an absolutely ridiculous amount of food. Rather than list all the dishes we ordered, please see the following annotated menu.
Our meal was full of the laughter of close friends and the tastes of good food. I think that this picture from David just about encapsulates it.
After dinner, we were fortunate enough to meet my friend Josh, Elena (his wife), and their two daughters on the train ride back towards our hotel. We chatted during the ride before exiting at the St. James's Park stop. We said our goodbyes to our friends in the lobby of the Conrad before a pleasant evening stroll back to our hotel.
October 2
We had a leisurely breakfast before packing up and departing the hotel around 0930 to retrace our steps to London Heathrow. After clearing security, we visited the British Airways Galleries First Lounge. I enjoyed a couple cups of coffee, James grabbed a bite to eat, and then we headed to our flight.
I enjoyed our journey to Venice. The service was excellent and we were offered a full hot meal, which was decent. The best part was the clear views over the Swiss alps as we crossed the border between Switzerland and Italy. They were absolutely gorgeous.
When we landed in Venice, I attempted to get some cash from an ATM because I intended to book us a private water taxi. Unfortunately, my Charles Schwab debit card refused to work and so, without any available cash, I opted to purchase tickets on the Alilaguna water bus.
We made our way to the airport's docks and waited for the Linea Arancio, which we rode all the way to the last stop.
When we alighted, it was a two-minute walk to our hotel. Check-in was quick and efficient, and we were shown to our rooms by the agent who helped us. Each of the rooms at The Gritti Palace is uniquely gorgeous. James was blown away, to say the least. Here are some pictures of my room.
Here are some pictures of James's room.
Because of the delayed arrival at the hotel, and the fact that neither James nor myself were hungry, I decided to cancel our dinner reservation in favor of spending that time walking around Venice. First, we walked to St. Mark's Square.
Then, we walked along the waterfront, spending the time chatting and snapping some photos.
We returned to the hotel where we briefly visited the bar before realizing that the cheapest drink was 30.00EUR, a price I'm unwilling to pay at a city hotel. In James's room, he drank a bottle of complimentary wine while I chowed down a protein bar that he'd thoughtfully brought along for the trip.
October 3
We ate a delicious breakfast at The Gritti Palace's restaurant located on the Grand Canal. The eggs to order were very tasty, and everything on the buffet was scrumptious, particularly the many pastries that I indulged myself with.
After breakfast, we packed up and made our way to the water bus stop for our return to the airport. Even the views from public transit stops are beautiful in Venice.
Our flight from Venice was delayed by fifty minutes, causing a bit of a rushed connection in London. We made it onto the plane without any issues, though. Our departure from London was delayed because other passengers had a bit more difficulty getting to the gate on time.
Personally, I loved British Airways' seats on their 787-10. They were comfortable and spacious with good storage. The service on our flight was great, as well.
When we arrived in Seattle, we found out that our luggage had been left in London because of the tight connection. James filed a delayed baggage claim while I headed through immigration to catch my flight to Las Vegas. Our bags were delivered directly to us over the next two days without any other issues.
Once in Las Vegas, Angela and Fitz picked me up and thus ended a fantastic trip. James and I had an excellent time in London and Venice and made many memories that will last a lifetime. I'm so lucky to get the time to spend with my brother and I continue to savor every moment that we have together.